These photos are personal moments from my Yoga Faith Teacher training. There is a story behind each one. Each is a fiber in the tapestry of my life that God is using to get me where He wants me.
This training was incredible on so many levels. It was training to teach others but greater than that, each day of training was filled with lessons for me to walk through life's pain and to learn to release that and express that through worshipping on my Yoga Mat.  Yoga has so many health benefits . IT is a mind, body and spirit journey. It's a practice that brings JOY and increases your time with GOD.
YogaFaith's mission is to guide others into a sacred space with the Lord through Christian yoga. YF believes in a REDEEMED yoga practice based on the RECONCILIATION of ALL THINGS by the blood of Christ (Col. 1:19-20).
In HIM we live and move and have our being. Acts 17:28
It was such a pleasure to guide 30 ladies through a 12 week program at our local gym Fall of 2016. THEN I was blessed to be ask to come and share my "grief" story/testimony and lead a YOGA CLASS at the FRAMEWORK ladies conference in November of 2016.  It was so humbling to sit before those ladies and simply share what GOD has been doing in my life .  I have led other classes for special events  and corporate groups and will continue to do that as God Leads.
IT was back in APRIL of this year ( 2017) at a YOGA RETREAT in Gulf Shores with GLOW YOGA that the spirit spoke to me about Getting my heart purposed on something.  That was a big pill to swallow.  I came home and made a deal to purchase a little place . TO most it was a dump, but to me I saw PAST all it's flaws and brokenness to what is now the home of "HUNKY DORY."  God showed me the name on the same retreat.  To most of us Hunky Dory simply means it's okay, everything is alright, it's all good, BUT after some nudging by the Holy Spirit I found in the ole english dictionary of 1847 that Hunky Dory was derived from the words hunker down ( referring to war times) and its root meaning is my place of refuge, my secret hiding place.  OH MY.. Really GOD…. That was it.  So HUNKY DORY it is.  My by-line is "living life well"…. That's my hope for each person that comes and joins me in a class. If you are interested in learning more about classes, private lessons, or workshops please give me a call. I'd love to share my journey with YOU.
Yoga Faith
‪#‎JesusFirstYogaSecond‬ ‪#‎YogaFaith‬ ‪#‎RYT‬ ‪#‎yoga‬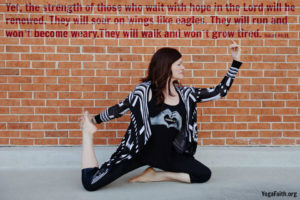 Great Read about combining Yoga and Faith: ( click on image below)