These photos are personal moments from my Yoga Faith Teacher training. There is a story behind each one. Each is a fiber in the tapestry of my life that God is using to get me where He wants me.
This training was incredible on so many levels. It was training to teach others but greater than that each day of training was filled with lessons for me to walk through life's pain and to learn to release that and express that through worshipping on my Yoga Mat.  Yoga has so many health benefits . IT is a mind, body and spirit journey. It's a practice that brings JOY and increases your time with GOD.
YogaFaith's mission is to guide others into a sacred space with the Lord through Christian yoga. YF believes in a REDEEMED yoga practice based on the RECONCILIATION of ALL THINGS by the blood of Christ (Col. 1:19-20).
In HIM we live and move and have our being. Acts 17:28
It was such a pleasure to guide 30 ladies through a 12 week program at our local gym this past fall. I do not have a schedule in place right now for future classes as I am seeking God's face on this moving forward. I have been privileged to do some special classes for a couple of retreats and corporate groups and will continue to do that as God Leads.  If you are interested in learning more about classes, private lessons, or workshops please give me a call. I'd love to share my journey with YOU.
Yoga Faith
‪#‎JesusFirstYogaSecond‬ ‪#‎YogaFaith‬ ‪#‎RYT‬ ‪#‎yoga‬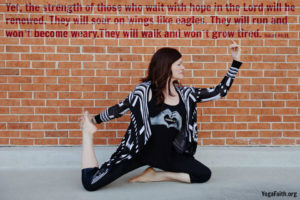 Great Read about combining Yoga and Faith: ( click on image below)